Warning
: getimagesize(https://www.ranktracker.com/assets/public_site/overview-c1d093a381f6082632ad1ba3ac253b0e01312daa86cf2f6deea5e47cba47cbaa.png): failed to open stream: HTTP request failed! HTTP/1.1 404 Not Found in
/home/153143.cloudwaysapps.com/pagaprvbyv/public_html/wp-content/plugins/code-snippets/php/snippet-ops.php(575) : eval()'d code
on line
22
It is never possible for you to optimize your website on the search engines, without seeking the assistance of SEO tools.
A large number of such paid or free SEO tools are available for you to use or download from the internet.
But before you make a payment to purchase an SEO tool, you should do your homework on whether it will be in position to deliver the needed results.
That's why you need to know about the available paid SEO tools out there.
In this list, I will keep it relevant and will mention tools I have used or seen colleagues use over a period of time and generate them results.
When you are certain about some of the available SEO tools, you will be able to go ahead and invest your money on them without keeping a doubt on mind.
So,  here comes my list, enjoy
Moz is a suite of user-friendly inbound marketing tools.
This is likely the most popular tool on the list. They have been around for a long time and continue to offer both basic and advanced tools to help with your SEO needs.
Their huge selection of research tools will likely offer what you are looking for with your SEO needs.
 Below are some of my favorite free Moz tools:
Open Site Explorer is a backlink analysis tool with helpful metrics approximating link equity.
Moz Local (formerly Get Listed) lets you see the state of a company's local citations and is the first place you should go when you first start local SEO on a site.
Mozbar is a browser toolbar that lets you quickly get at Moz's key features for the page you're on.
The SERP Overlay is part of the Mozbar and shows OSE metrics on individual search results.
This tool can easily be used to lookup for the keywords that are being used by your competitors.
Then you can get to know about the most effective traffic generating keywords.
Most of the people in today's world prefer to use SEM Rush with the objective of achieving quick results.
If you don't want to wait for several months to get your website ranked on search engine results, you will have to think about using SEM Rush.
SEMrush – After years of SEO, SEMrush has risen to the top as one of my favourites. This tool is especially good for competitor analysis. It offers advanced keyword and competitor research.
The makers of this software are the same company that made the popular tool SEOQuake. It allows you to see a bird's eye view of how your site is performing in search engines.
And look at what your competitors are doing for both organic and AdWords.
This is among the most popular websites available out there on the Internet to have a look at website rankings.
The dream of all the website owners out there is to improve the Alexa ranking. It arranges the websites out there on the Internet based on traffic.
Even though the basics reports of Alexa are offered for free, you should think about getting your hands on the premium reports. That's the reason why I thought about adding Alexa into the list of top 15 best paid SEO tools as well.
They can provide information about all essential information that you need to have in order to take your SEO efforts to the next level.
This is a complete SEO package that consists of effective web analysis tools.
They can be used to perform a complete keyword research. The results delivered to the users with SEO Power Suite are up to date and accurate.
Due to this reason, you shouldn't worry too much before you go ahead and get your hands on this paid SEO tool.
This is another popular keyword research tool that can be found in the market.
This will assist you to get a better understanding on where your website ranks on the World Wide Web.
Apart from keyword research, Rank Tracker has got the ability to help you with monitoring the search engine rankings as well.
Therefore, you can take quick action after you notice that your website rankings have fallen down.
This tool can be used to get more information about a specific website.
The deep analysis tools can be used to get a better understanding about the content or title tags in a website.
When it comes to SEO, you should constantly spy on your competitors. Otherwise, your competitors will get their websites ranked on top of your websites.
This tool can provide assistance to you with that. Therefore, you will not have to worry too much on your competitors and their efforts.
This is a powerful backlink analysis tool.
In other words, you can use SEO Spyglass to get detailed information about the backlinks in a specific website.
You can also analyze the root domains of backlinks.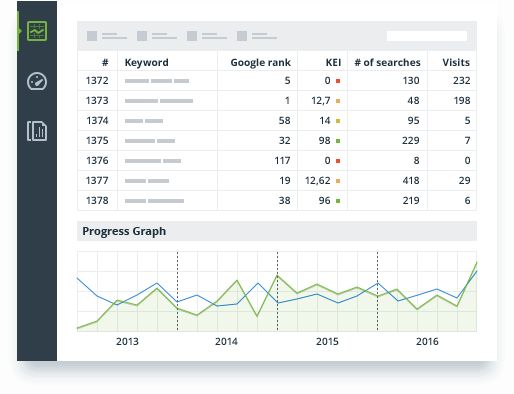 This tool is specifically designed for exchanging links.
It will analyze the websites and provide you with all the possible link opportunities available out there.
This can help you to save a lot of time in the long run. Link building can still deliver amazing results to you with search engine optimization campaigns.
That's the same reason why I added it to my list of best paid SEO tools.
If you want to retain your search engine rankings, it is important to monitor them on a regular basis.
However, you will not be able to monitor the rankings manually on a daily basis. It requires a tremendous amount of time as well as effort.
That's where Authority Labs will be able to assist you. It can automate the process of monitoring your SEO rankings.
In addition, Authority Labs can provide you with the chance to track the domains of your competitors.
With it, you can receive valuable insights about your SEO campaigns. In addition, you will find it as an easy task to stay up to date with the trends and retain your rankings.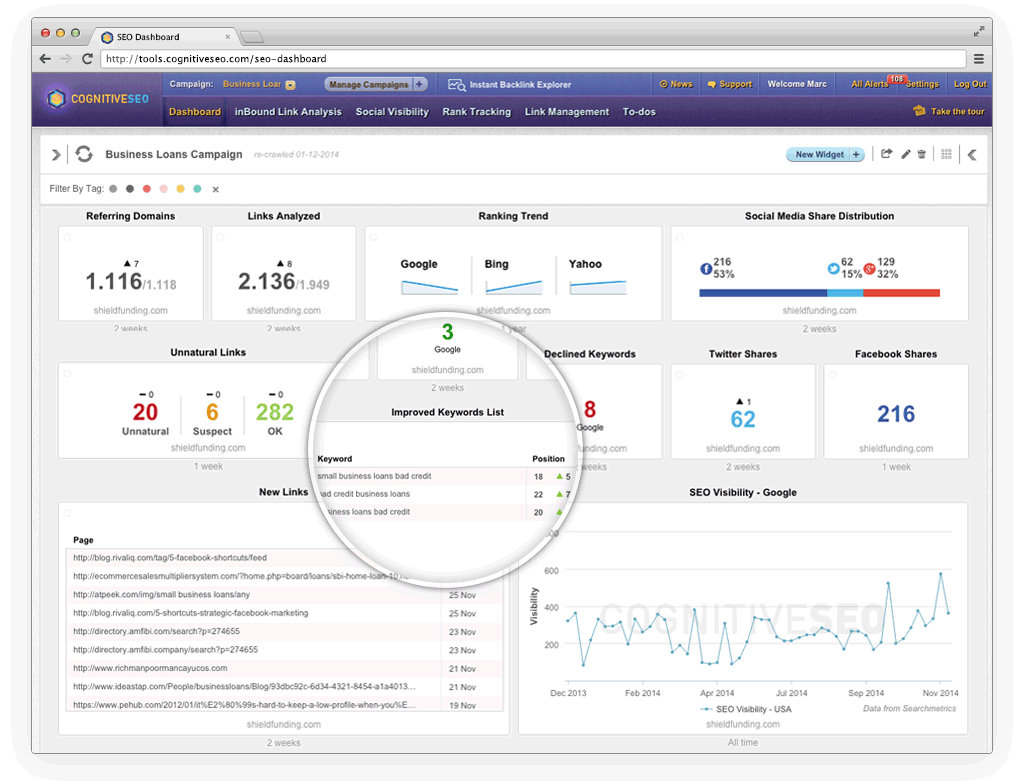 Cognitive SEO can be considered as an accurate and a fast backlink checker.
You can think about sticking to this paid SEO tool in order to continue with backlink analysis work. That's because it has got the ability to deliver comprehensive reports to you on backlink analysis.
It can effectively check the quality of the backlinks and automate the process of link building work as well.
Due to this reason, you are highly encouraged to move forward with Cognitive SEO for all backlink related work.
Cognitive SEO  shows your data in a very presentable and user-friendly way. Cognitive SEO does not do everything that Raven Tools does, but does a great job compared to many of its competitor tools.
This web-based platform is designed to meet the needs of large digital marketing agencies, as well as those who optimize their own websites.
This is a good, standard SEO tool. They do a great job with offering keyword rankings for specific locations.
Web CEO also offers an automatic submission to search engines. It's a very comprehensive software but at the same time, it's easy to use.
AWR offers a great way to organize the many tasks of search engine optimization.
Its powerful analyzer has a nice, clean interface that can easily create custom reports for rankings.
They also offer frequent updates and great customer service. This tool is more suited for in-house SEOs and smaller agencies.
This is one of my most favourite website SEO audit tools.
This tool is suited for larger SEO agencies and can be integrated into the website to help you generate more leads.
MySiteAuditor is one of those tools that is directly compatible with the Google's ranking algorithm.
This is one of the best tools that will not only help you identify the errors but will also help you to prepare a list of task that your content, web development, and designers can look into.
The tool crawls your website and comes back with more than 70 parameters like domain overview, pages, meta, content, images and links analysis, and mobile optimization.
This tool will help you generate semantic keywords and phrases you can use in your content, which helps Search Engine and users understand your web content in a better way.
Any amazing paid for SEO tool missing on list? Or you have one that worked for you but not in the list?, share in the comments below.